Symphony no. 8 in B minor, D. 759, in four movements
William Carragan
Contributing Editor, Anton Bruckner Collected Edition, Vienna
Vice-President, Bruckner Society of America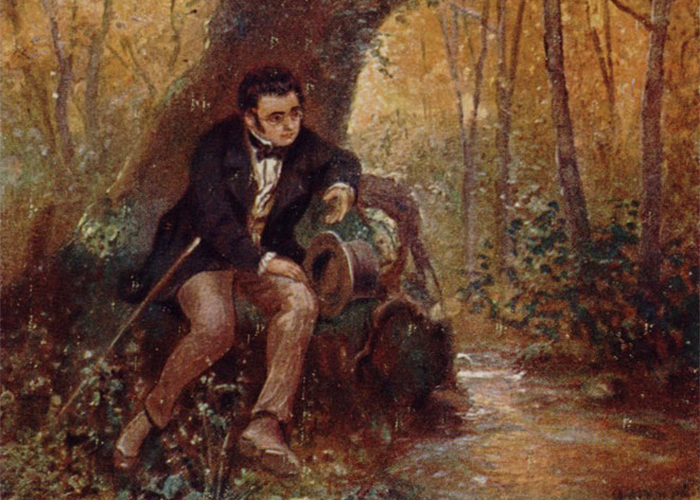 02. November 2011, 12:00 clock
MAIN POST
BAD KISSINGEN
Entering new worlds
World premiere of Schubert's "Unfinished – Complete"
World premiere: The Philharmonic Orchestra Festiva played Schubert's "Unfinished – Finished?"
Imagine if music were not always and everywhere available, there were no CDs, no radios. A concert would be as in Rossini's, Mozart's and Schubert's lifetime, a spectacle, a sensation and a premiere of the revelation of a secret. A tiny bit of that feeling was palpable at the special concert "Autumn Sounds" of the Ebracher Musiksommer in the Great Hall of the Regenterei on October 31. The Philharmonie Festiva conducted by Gerd Schaller introduced a world premiere. After the break, the musicians first played Franz Schubert's "Symphony No. 7 in B minor, Unfinished – Finished?" supplemented by William Carragan with the third and fourth movements.
Schaller and his orchestra like to plunge into experimental regions. The reward was the 2010 Echo Klassik Award for Music for the world premiere of the romantic opera "Merlin" by Carl Goldmark.
With dedication, the orchestra played the first two known movements: spellbinding with delicate, lyrical melodies with perfect arches and persuaded sophisticated dynamic tension, the perfectly beautiful woodwind lines, the poetic brass inserts, the strings vibrating with stirring motives. Not deep sadness in the Schubert work, but psychologically unsettling.
There was expectant tension in the audience before the next movement's premiere. With surprisingly powerful, life-affirming, dancing began the seven-minute third movement, the Scherzo, the music orchestrated by the American scholar William Carragan on the basis of the existing Schubert piano score. Hopefully, playfully, daring is the sentiment – something from the dawn of new worlds was in the air. Broad chords, sweeping curved guides and sonorous echo effects dominate the 13-minute finale, which is based on Schubert's incidental music for "Rosamunde" and concluded with a firm final chord. This statement completely changed the effect, because the fragmentary restful dying-away of the second movement is no longer possible. Individual cheers and much applause.
The autumn concert opened with Gioacchino Rossini's lively and vivacious overture to "The Italian Girl in Algiers". With sensitive and observant pianism then came the Romanian-born Andrei Licaret with Mozart's Piano Concerto No. 24 in C minor, KV 491. He savored the cadenzas with rapturous beauty, fragrant and yet elegiac. He was accompanied by a very attentive orchestra; Schaller's interpretation of the work followed him unconditionally. Even before the break there was great applause.
The Bayerische Rundfunk made sure that not only the audience will have the experience of the world-premiere. It recorded the concert and will present it in its classical program over the airwaves.
Share this article, choose your platform: