PrintFriendly
The Harpsichordist's Revenge Turnabout is Fair Play
William Carragan
Arrangements of works not originally written for harpsichord, to show that it can be done!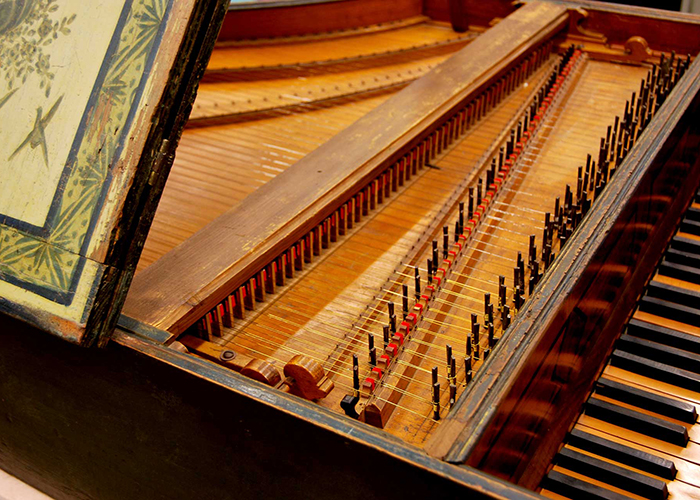 Harpsichord by Christian Zell – Museu de la Musica Barcelona
This is a series of arrangements of piano and orchestral music for two harpsichords, conceived jocularly as revenge on the pianists for stealing our literature and playing it on an inferior instrument. But more seriously, music is chosen which indeed is successful in the new medium.  Accordingly we have music by Gottschalk imitating the banjo, music by Liszt imitating the cymbalom, variations by Brahms on a harpsichord air by Handel, and music by Ravel as tribute to the harpsichordist François Couperin. Listen before you laugh, and download freely.
These arrangements are conceived for modern French-style double harpsichords of 63 notes, F1–G6. Those players who like me have slightly smaller instruments must make arrangements when the music goes beyond their instruments' compass; nobody will notice. Registrations are merely indicated by p, f, and ff, where p refers to a single "eight-foot" choir on the upper or lower manual as desired, f indicates that the two manuals should  be coupled with both "eight-foot" choirs playing, and ff calls for the addition of the octave or "four-foot" choir. Refinements beyond these simple specifications are at the discretion of the players. You are strongly advised to use the unequal temperament Kirnberger 3 (Prinz) for all of this music, especially when you are playing in F sharp major.
Permission for performance is freely granted on these terms: (1) include my name on the program as arranger, (2) do not change the arrangement except for adjusting for a limited instrumental compass, (3) do not re-publish the music under any circumstances, and (4) let me know your reactions. Have fun!
List of Composers
Johannes Brahms (1833-1897)
Variations and Fugue on a theme by Handel, Op. 24

Arranged for two harpsichords by William Carragan
Play Variations and Fugue on a theme by Handel, Op. 24
Manuel de Falla (1876–1946)
Danza ritual del Fuego

Escena del "Amor brujo"
Arranged for two harpsichords by William Carragan
This famous excerpt or "scene" from Love, the Magician was arranged for piano by the composer and is a favorite encore piece. But in the printed arrangement, during the first theme after the trills, there are extra staves with music from the original orchestral and choral score that could not be accommodated to two hands. This extra music comprises instrumental decorations, as well as sighs and calls by the heroine Candelas and the chorus. For four hands on two harpsichords, these features can be included, and they make for quite a gaudy show piece.
Play Danza ritual del Fuego
Louis Moreau Gottschalk (1829–1869)
Bamboula, Op. 2

Danse des Nègres
arranged for two harpsichords by William Carragan
Bamboula
The bamboula is a giant drum with a bamboo frame. It is still used in the voodoo dance of the same name.
Le banjo, Op. 15

Fantaisie grotesque. An American sketch
arranged for two harpsichords by William Carragan
Le banjo, Op. 15
For harpsichords, this famous piece has been moved from its original key of F sharp to the more banjoic key of G major. Paul Ely Smith argues strongly that it represents a rich preservation of ante-bellum banjo-picking techniques. At the beginning, and near the end, it quotes the spiritual "Roll, Jordan, roll", which has the same "bridge" as "The Camptown Races".
Manchega, Op. 38

Étude de concert
arranged for two harpsichords by William Carragan
Manchega, op. 38
"Manchega" was written while Gottschalk was on tour in Spain. Although the piece does not sound much like Schubert, it actually uses many devices and turns of phrase appearing in Schubert's "Klavierstücke" or impromptus. The repeat scheme in the arrangement is a felicitous expansion of the original which was devised by my friend Findlay Cockrell; it also can be heard on the piano on his CD "Findlay in Blue".
Souvenir de Porto Rico, Op. 31

Marche des Gibaros
arranged for two harpsichords by William Carragan
Souvenir de Porto Rico, Op. 31
This composition was the result of an extended stay by the composer in Puerto Rico, and depicts the mestizos who farm the soil there. It shows that Scott Joplin, for all his genius, did not invent ragtime. Again, there are many Schubertian effects.
Union, Op. 48 (1862)

Paraphrase de Concert
arranged for two harpsichords by William Carragan
This wonderful piece starts in the midst of a battle with a ghost of the tune "Yankee Doodle", and proceeds to a mournful setting of "The Star-Spangled Banner" to represent the beleaguered Northern armies. Then there is the double fanfare of the official salute to the Vice-President, and the vice-presidential anthem, "Hail, Columbia", also mournful, followed by a run-out of the tune with snare-drum accompaniment which is to be rendered by the second harpsichordist drumming his or her fingers on the bottom of the harpsichord. But suddenly there is the bright arrival of "Yankee Doodle" and "Hail, Columbia" combined, and triumph is in sight. Finally I took a bit of a liberty, and added "The Star-Spangled Banner" to the mix. Please forgive me, and enjoy it.
Rhapsodie hongroise No. 2

dediée au Comte Laszlo Teleki IV
Arranged for two harpsichords by William Carragan
Play Rhapsodie hongroise No. 2
Rhapsodie hongroise No. 4

Dem Grafen Casimir Esterházy gewidmet
Arranged for two harpsichords by William Carragan
Play Rhapsodie hongroise No. 4
Rhapsodie hongroise No. 6

 à S.E. le Comte Antoine d'Apponyi
Arranged for two harpsichords by William Carragan
Play Rhapsodie hongroise No. 6
Rhapsodie hongroise No. 9

Pester Karneval. H. W. Ernst gewidmet.
Arranged for two harpsichords by William Carragan
Play Rhapsodie hongroise No. 9
Rhapsodie hongroise No. 10

Béni Egressy gewidmet
Arranged for two harpsichords by William Carragan
Play Rhapsodie hongroise No. 10
Rhapsodie hongroise No. 11

Baron Fery Orczy gewidmet
Arranged for two harpsichords by William Carragan
Play Rhapsodie hongroise No. 11
Rhapsodie hongroise No. 14

Hans Guido von Bülow gewidmet
Arranged for two harpsichords by William Carragan
Play Rhapsodie hongroise No. 14
Rhapsodie hongroise No. 15

Marche de Rákóczi
Arranged for two harpsichords by William Carragan
Play Rhapsodie hongroise No. 15
Rhapsodie hongroise No. 16

Mihály Monkácsy gewidmet
Arranged for two harpsichords by William Carragan
Play Rhapsodie hongroise No. 16
Rhapsodie hongroise No. 19

d'après les 'Csárdás nobles' de K. Ábrányi
Arranged for two harpsichords by William Carragan
Play Rhapsodie hongroise No. 19
Maurice Ravel (1875-1937)
Le Tombeau de Couperin (1917)

Six movements, beginning with I. Prélude
à la mémoire du lieutenant Jacques Charlot
Arranged for two harpsichords by William Carragan
Play Le Tombeau de Couperin